From Nepal With Love – And Film
Second Annual Nepal-American International Film Festival Held in Hyattsville, Awards Three Pictures
By Darrell Cador // @DarrellACador
PHOTOS: RAOUL DENNIS & DARRELL CADOR PRINCE GEORGE'S SUITE MAGAZINE & MEDIA
An affair to remember recently descended upon the Regal Hyattsville Royal Stadium 14 and AFI Silver Theatre and Cultural Center in Silver Spring, Md. respectfully as the Nepal American Film Society, Inc. presented its second annual Nepal American International Film Festival.
On May 18-20 film lovers nationwide all gathered to enjoy an absolute smorgasbord of over 90 brilliantly produced independent films and documentaries by some of the film industry's brightest minds.
Among the many talented filmmakers awarded at the festival were Directors Shiri Paamony Eshel who won 'Best Short Film' for her project titled Maria and Miranda Morton Yap who took home the honor of 'Best Documentary' for her film Daughters of the Curved Moon.
The goal of the Nepal American Film Society, Inc., a Maryland-based 501(c) 3 is to collaborate with various Nepali Diaspora community partners and other cinematic organizations of the United States and Nepal to bridge culture and knowledge through film.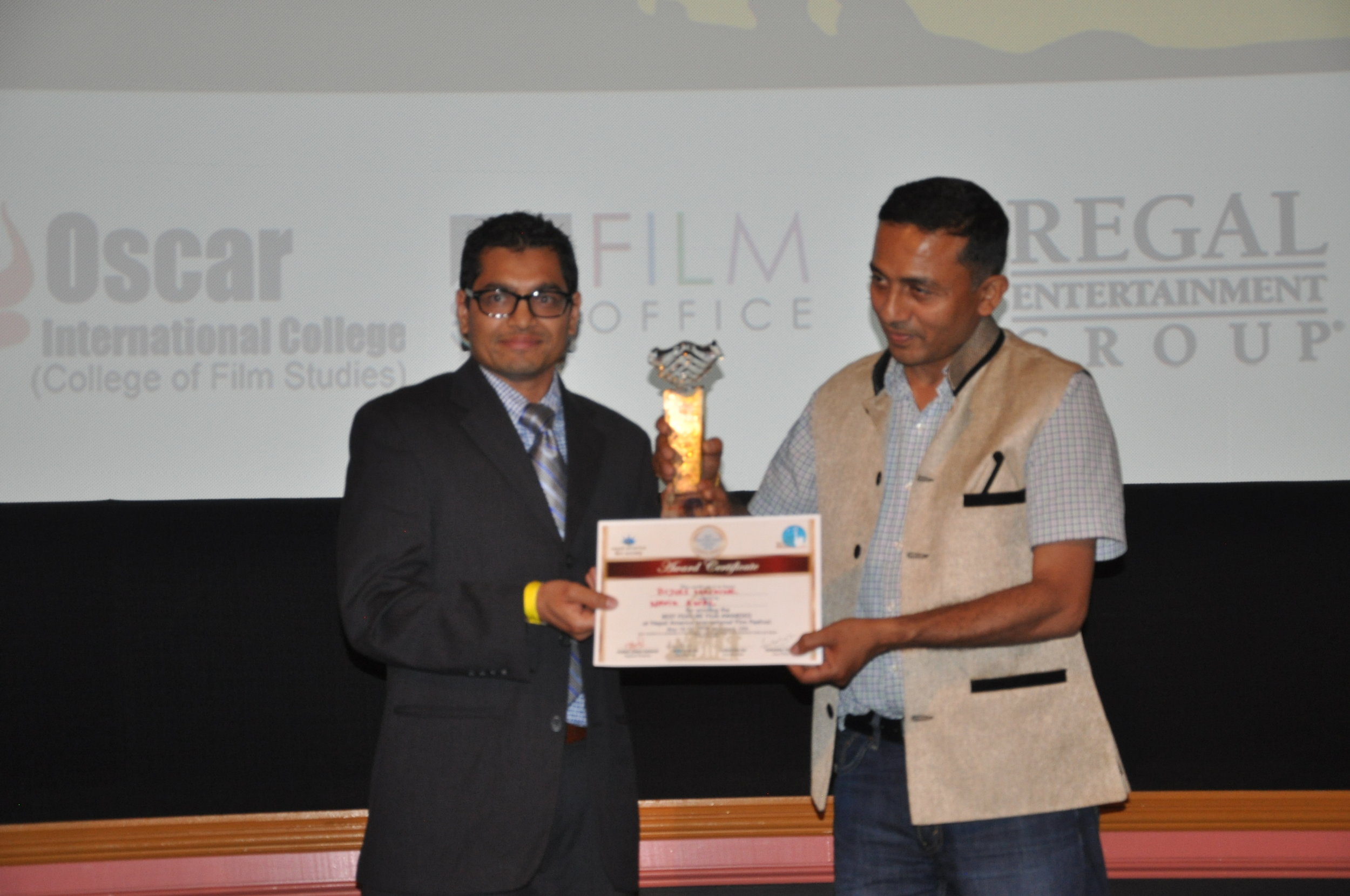 Festival Director Purna Singh Baraili is convinced that the best is yet to come. "My dream is to grow this festival and make each year better than the last." In the midst of any endeavor are its related obstacles. "The biggest challenge we face," says Managing Producer Anup Khanal "is ensuring that we're delivering the best product possible and we achieve this by working together."
Co-Associate Director Kiran Paudyal adds, "Conquering the language barrier is a task all its own, but once that hurdle is cleared the passion for this art form takes over."
Festival sponsors include The Prince George's Arts & Humanities Council, The Prince George's Film Office, The Maryland Film Office, Regal Entertainment Group and Prince George's Suite Magazine, Eastern Automotive Group, Oscar International College (College of Film Studies) and Film Freeway to name a few.
Program Director and Co-Founder Kirtana Banskota puts it best by saying, "Art has no boundaries, and that's been very inspirational for us."
…And The Winners Are…
Best Narrative Feature – "Bijuli Machine" (Nepal )
// Navin Awal, Director
For its originality and inspiring story that celebrates science and ingenuity. An audience-pleasing film that is well made with good performances by the lead actors.

Honorable Mention – "In Search of Nation" (Nepal )
// Prakash Angdembe, Director
An important and epic story that has not been told

Best Documentary – "Daughters of the Curved Moon" (USA/Nepal ) // Miranda Morton Yap, Director
A beautifully filmed documentary that introduces the audience to the women of a Nepali village. It weaves several women's stories into a compelling look at life in their village.

Best Short Film – "Maria" (USA) // Shiri Paamony Eshel, Director
Moving story of a young woman in the Bronx and her family. Maria's struggles for her education and a better life are told through her poetry and the film is also visually poetic.

Honorable Mention – "Girl Fact" (Belgium) // Maël Lagadec, Director
Powerfully told guide for women in the DRC dealing with the issue of rape that has been used as a weapon of war for the past 15 years.